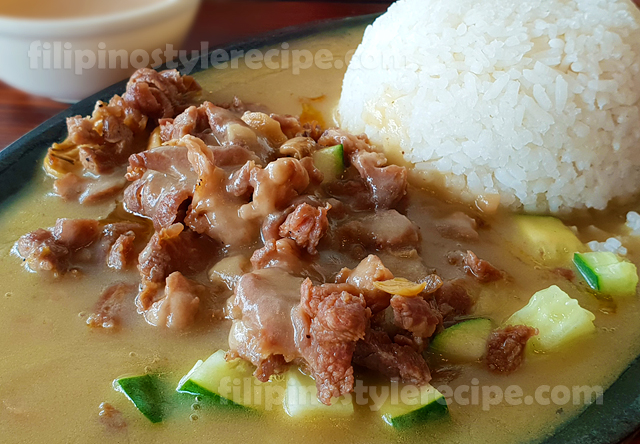 Ingredients:
1/2 kilo beef sirloin, cut into small pieces
200 grams mushrooms, sliced
1 onion, chopped
3 cloves garlic, minced
2 tablespoons oyster sauce
1 can cream of mushroom
1/2 cup hot water
1 tablespoon butter or margarine
3 tablespoons olive oil
salt and pepper to taste
1/4 teaspoon paprika or chili flakes(optional)
cucumber, chopped for garnishing(optional)
Procedures:
Part 1
1. In a bowl, marinate beef with oyster sauce, paprika, salt and pepper for 30 minutes.
2. In a pan, heat olive oil then stir fry beef for 5 minutes or until brown.
3. Remove from the pan and set aside.
Part 2
1. In a pan, melt butter and saute garlic and onion.
2. Add mushrooms and saute for 3 minutes.
3. Pour water and cream of mushroom then cover and simmer until the sauce is creamy. Stir constantly.
4. Put the beef back into the pan then adjust seasoning according to taste.
5. Simmer for a while and turn off the heat.
6. Transfer to hot sizzling pate then garnish with cucumber. Serve with steamed rice.