Filipino Style Recipe: Cheesy mashed potato balls or croquette is a small fried breadcrumbed ball filled with mozzarella.
Good for 15 pieces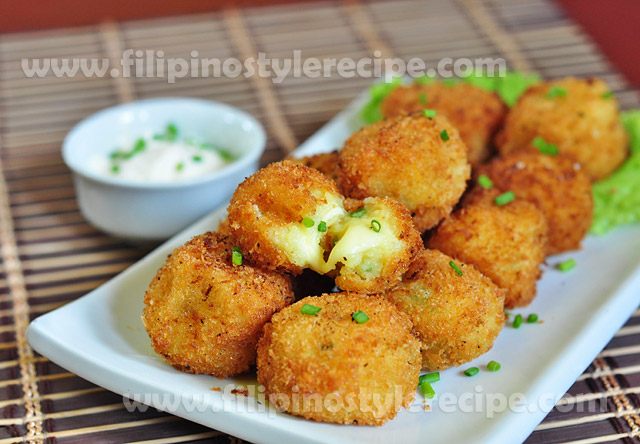 Ingredients:
3 medium size potatoes, peeled and cut into cubes
2 tablespoons chopped spring onion
1/2 teaspoon salt
breadcrumbs
1 raw egg, beaten
1 tablespoon flour
1 tablespoon butter, softened
mozzarella, cut into small cubes
cooking oil for frying
Procedures:
1. In pot, boil water with 1 teaspoon salt then cook potatoes until soft. Drain.
2. In a mixing bowl, mash potatoes then mix together with butter, salt and spring onion until well blended.
3. Scoop a tablespoon of mash potato then roll into ball. Fill with each ball with mozzarella.
4. In a bowl, mix egg and flour until well blended then dip each ball into mixture.
5. Roll into breadcrumbs until evenly coated.
6. Deep fry each ball until golden brown. Drain.
7. Transfer into serving plate then serve with your favorite dip.