Filipino Style Recipe: Chicken Macaroni Salad is comprises a chicken and macaroni pasta as main ingredient. Combine with mayonnaise, carrots, raisins, pickles, cheese, salt and pepper. This is commonly serve as mid-afternoon snack (meryenda) or side dish.
Ingredients: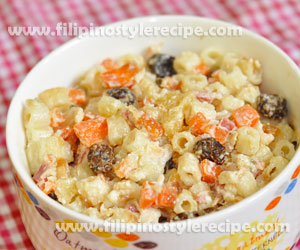 500 grams chicken fillet
500 grams ditalini or elbow macaroni pasta
1 large carrots
1/2 cup raisins
1/2 sweet pickles, chopped
1 small pack pineapple tidbits, drained
1 cup grated cheese
salt and pepper to taste
100 grams ham (optional)
Procedures:
Part 1
1. In a pot, boiled chicken in water with 1 tablespoon salt then cook until tender. Drain and let it cool.
2. Remove the chicken and allow to cool before shredding the meat into a large bowl.
Part 2
1. Boiled carrot for 3 minutes then drain and allow to cool. Remove the skin and cut into small pieces. Set aside.
2. Cook ham then cut into small pieces. Set aside.
Part 3
1. In a large bowl, shred chicken then add mayonnaise. Mix until just blended.
2. Add the rest of ingredients then season with salt and pepper according to taste. Mix until well blended.
3. Refrigerate for at least 1 hour before. Serve.