Filipino Style Recipe: Cheesy Ground Beef Nachos is a popular Mexican dish made of delicious corn tortilla chips loaded with various toppings and cheese sauce.
Estimated time of preparation: 15 minutes
Estimated time of cooking: 20 minutes
Good for 2-3 persons
Ingredients: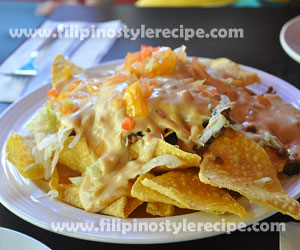 Corn tortilla chips
Salsa:
2 tomatoes, seeded and diced
100 grams sliced black olives
1/2 cup picked sliced jalapenos
Taco Meat:
500 grams ground beef
1 white onion, diced
1/2 teaspoon ground cumin
1 teaspoon chili powder
1/2 teaspoon garlic powder
1 teaspoon dried oregano
1/2 teaspoon cayenne pepper
salt to taste
Cheese Sauce:
1 cup shredded Cheddar cheese
1 tablespoon butter
3/4 cup low-fat milk, chilled
1/2 cup beef or chicken broth
1 tablespoon flour
1/2 teaspoon chili powder
1/2 teaspoon salt
Procedures:
Part 1
1. In a pan, heat oil then saute onion.
Add beef and seasoning then cook until brown and crumble. Drain and set aside.
Part 2
1. In a same pan, add butter and flour then stir until smooth.
2. Slowly add chilled milk then whisk constantly until smooth. Break any lumps.
3. Add broth and seasoning then simmer until bubbly and thickened.
4. Lower the heat then add shredded cheese, stir continuously until smooth. Set aside.
Part 3
1. In bowl, combine salsa ingredients then toss. Set aside
Part 4
1. In a serving plate, layer the tortilla chips evenly then top with taco meat, salsa then drizzle with cheese sauce. Top with extra salsa. Serve and enjoy!