Filipino Style Recipe: Kansi is a popular delicacy in Iloilo specially in Bacolod City. This dish is like a fusion of bulalo and sinigang that has a sour flavor coming from batuan fruit. Kansi most sought after during rainy weather because its hot soup and tender beef gives warmth and comfort.
Ingredients: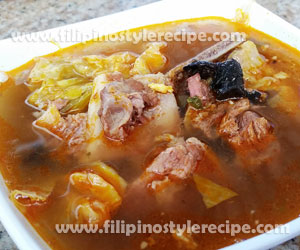 1 kilo beef shanks, cut into serving pieces
8 batuan (batwan)
250 grams green jackfruit (langka)
2 stalks lemon grass (tanglad)
6 cloves garlic, minced
2 onions, chopped
fish sauce or salt and pepper to taste
1/2 small cabbage, quartered (optional)
1 tablespoon annato seeds (dissolved in 1/2 cup water)
red chili pepper (optional)
Procedures:
Part 1
1. In a large casserole, heat oil then saute garlic and onion.
2. Add beef and pour water just enough to cover the meat.
3. Set over medium heat and bring to a boil and simmer for at least about 1-2 hours or until meat is tender.
4. Remove the scum as it rises. Add more water if necessary. (Pressure cooker takes less time.)
Part 2
1. Add lemongrass and Batuan, salt and pepper then simmer for another 5 minutes.
2. Add red chili and jackfruit then simmer until it's cooked.
3. Add annato water then adjust seasoning according to taste
4. Add cabbage then simmer for another 3-5 minutes. Serve
Note:
1. You may use kamias as alternative to batuan.