Filipino Style Recipe: Banana Crumb Muffins is another delicious pastry similar to banana bread. Mainly made up of bananas mixed together with muffin mixture, topped with crumb. This muffin has a very delicious and good smell while the crumb gives a crunchy texture.
Estimated time of preparation: 20 minutes
Estimated time of baking: 20 minutes
Yield: 10 muffins
Ingredients: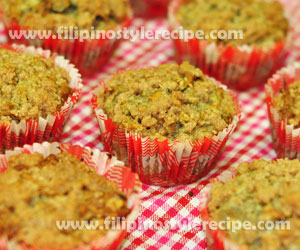 Banana Mixture:
4 medium overripe bananas, mashed
3/4 cup white sugar
1 egg, beaten
1/2 tsp vanilla extract
Flour Mixture:
1 1/2 cup flour
1 teaspoon baking powder
1 teaspoon baking soda
1/4 teaspoon ground cinnamon
Crumb Mixture:
1/3 cup brown sugar
1/4 teaspoon ground cinnamon
1 tablespoon flour
Procedures:
Part 1
1. In a bowl, mix together the flour, baking powder, baking soda, and cinnamon until well blended.
2. In a separate bowl, mix together the bananas, white sugar, vanilla, and egg until well blended.
3. Combine the banana mixture with the flour mixture until just blended or sticky. Set aside.
Part 2
1. In a small bowl, mix together the brown sugar, cinnamon, and sugar until it they form small crumbs.
2. In a muffin pan lined with muffin cups, spoon the banana-flour batter until almost full.
3. Sprinkle the crumbs on top then bake in preheated oven over 350 Fahrenheit for 15-20 minutes.
4. Let it cool for 5 minutes before serving.