Filipino Style Recipe: banana chips is a deep fried slices of bananas until crisp then coated with sugar syrup to have a sweet taste. This is a common homecoming gift(pasalubong) by most Filipinos and usually served as mid-afternoon snack(meryenda).
Estimated time of preparation: 15-20 minutes
Estimated time of cooking: 20 minutes
Ingredients: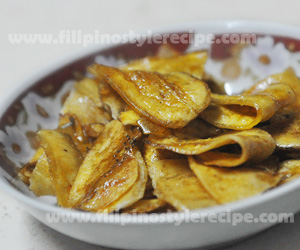 6 pieces plantains, peeled and slice thinly
1 teaspoon salt
1/2 teaspoon turmeric powder
2 cups ice water
1/2 cup water
1/2 cup sugar
cooking oil for frying
Procedures:
1. In a bowl, combine turmeric powder and salt then dissolved in ice water. Set aside.
2. Soak the sliced bananas in a ice water mixture for 5 minutes. Drain.
3. In a frying pan, heat cooking oil then deep fry bananas for 2 minutes or until crisp. Drain on paper towel.
Part 2
1. In a saucepan, boil water then dissolved sugar. Stir until dissolved then let it cool.
2. Dip the fried bananas then drain and let it cool until almost dry. Serve.