Filipino Style Recipe: Shrimp in Tomatoes and Coconut Milk recipe is a quick shrimp stew. It usually consists of shrimp cooked in tomatoes and coconut milk.
Estimated time of preparation and cooking: 20 minutes
Good for 3-4 servings
Ingredients: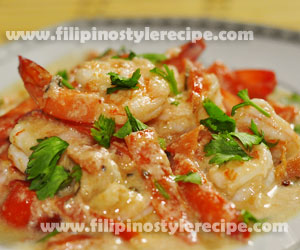 500 grams jumbo shrimp, peeled and deveined
1 can(400ml) coconut milk
2 large tomatoes, diced
1 red bell pepper, sliced thinly
1 white onions, sliced thinly
4 cloves garlic, minced
1 teaspoon olive oil
1 tablespoon lime juice
salt and pepper to taste
1/2 cup parsley(optional)
1/2 teaspoon red pepper flakes(optional)
Procedures:
1. In a pot, heat olive oil then saute red bell pepper until soft.
2. Add garlic, onions, red pepper flakes and parsley. Continue sauteing for a minute.
3. Add tomatoes, coconut milk, salt and pepper. Cover and simmer for 5 minutes in low heat.
4. Add shrimp and cook for another 3 minutes then add lime juice.
5. Adjust seasoning according to taste and continue cooking until sauce is thicken.
6. Transfer to serving bowl and top with remaining parsley. Serve and enjoy!
Tips:
1. You may also add curry powder to add more taste.